WordPress website for "Systems of Control – ConSys"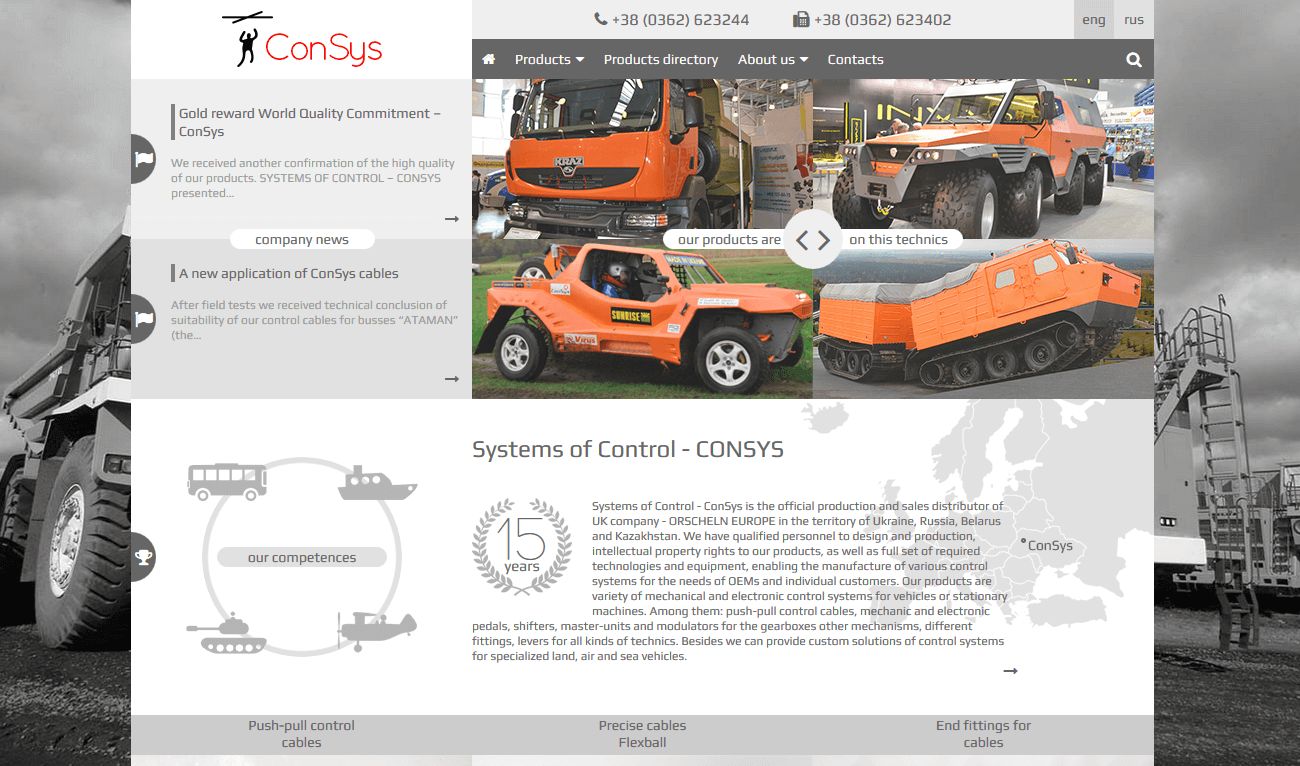 Today we will tell you about the update of the "Systems of Control – ConSys" company corporative website. The first versions of the consys.com.ua website represented tabular structure which it is accepted to call "old school" now. However, in far 2003rd year such approach was quite actual. It is rather curious to look back in the past like the archeologist on website remains in web archive (https://web.archive.org/web/20030617213736/http://www.consys.com.ua/).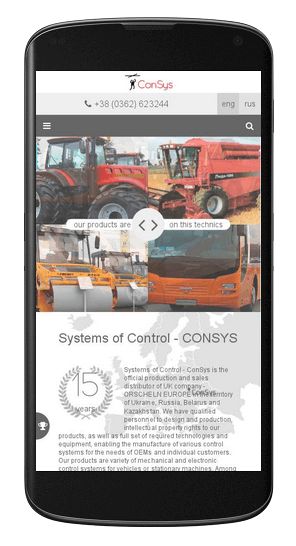 Internet technologies are developing, web-design is enhanced (material design becomes fashionable), mobile devices demand adaptability from the websites that influence directly on the SEO indicators. All these drivers induce websites owners to upgrade. Our patient consys.com.ua is not exception, its last version was represented like the "website-business card" based on WordPress: the theme was not adaptive, the design became outdated, many elements of the functionality required plugins installation that reduced general safety of a resource.
Recently the website consys.com.ua was completely updated – on the basis of developed design (the PSD format – PhotoShop) it was created the new subject WordPress with adaptive design under different screens resolutions (properties @media in CSS styles are used) up to 320px.
The design represents the block located in the center which allows not losing in quality of a graphics when viewing on UHD/QHD displays.
You can check optimization under mobile devices by the url: https://www.google.com/webmasters/tools/mobile-friendly/? url=consys.com.ua
Active use of JavaScript helped with dynamic forming of a slider, its management; centering of some design elements; going through the Consys clients logos; in work with touch-elements on mobile devices displays, other. At the same time the cross-browsers compatibility is kept and tested.
Taking into account the international activity of the company, the customer needed a Multilanguage website. For the solution of this task it is installed qTranslate X (plugin for WordPress) which is integrated into theme's elements, and also it allows adding content on the website (posts and pages) in the necessary languages. From the SEO point of view this plugin ensures correct functioning of hreflang attribute – Google Webmastertools statistics precisely defined languages without any mistakes.
The consys.com.ua website contains the items catalog on the basis of the WooCommerce plugin which can be used as online store for products sale at any time. Items in the catalog are divided into groups, have galleries, system of feedbacks with rating, and also participate in global search of WordPress.
Each page of the website has the feedback form with use of reCAPTCHA for protection against spam. The feature of the form work is sending to the administrator email the current address of the page (URL) from which sending was done. It allows to track quickly that was studied by the visitor on the website.
Thus, as a result of website redesign it was succeeded to solve such problems as mobile adaptability, multilingual, catalog representation of items and others. The website has become a modern and fresh and also improved SEO indicators.
We suggest to update your website too – contact us!