WordPress
Why does the SortSprint team actively use WordPress in their work? The answer to this question is quite obvious – this is the most popular Content Management System in the world. The prevalence of this system is ensured by its ease of use! The WordPress interface and the admin panel of this CMS are clear and friendly so as a result, the owners of WordPress sites can start working with the site without a long training. These facts form the following statistics: more than 30% of sites around the world are WordPress based and this figure is constantly growing!
SoftSprint has many years of work experience with WordPress. We can offer you:
– customization of sites on WP;
– creating themes from scratch and customizing existing ones;
– writing plug-ins and refinement of existing ones.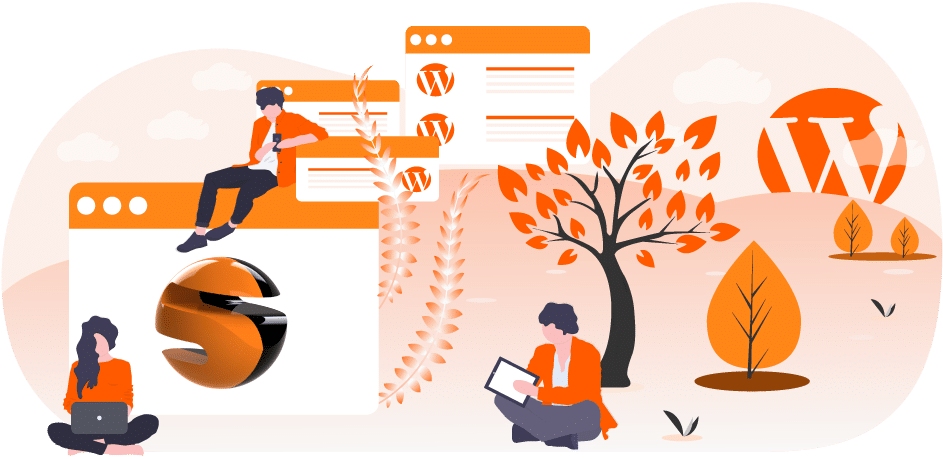 The advantage of WordPress is in its wide applicability, it can be used to create diverse sites: blogs, portfolios and galleries, business sites (with a unique design), online stores (WooCommerce allows to connect everything you need for e-commerce: shopping cart, order management, payment pages, etc.), course subscription systems, training, other. That is, WordPress is able to provide most of the customers needs in the shortest possible time, and the SoftSprint team is ready to translate your personality into a website with an original, fashionable, exclusive design. You tell us what design you would like to see on the site, we will draw it for you!
Here are some interesting facts about WordPress:
Since 2003, nearly 100 versions of WordPress have been released (ManageWP);
WordPress.com users generate about 76.3 million new comments each month (WordPress.com);
There are translations in 72 languages that are available for WordPress (WP Central);
About 30% of all sites are based on CMS WordPress;
WordPress sites make up 14.7% of the top 100 sites in the world (WhoIsHostingThis.com);
WordPress gets more unique visitors than Amazon, and as many as Facebook (but with 25 times fewer employees) per month (CodeinWP);
The ability to use WordPress was the most popular skill among employers in the world in 2014 (Sketch Themes);
41% of all online stores use the WooCommerce plugin.
And on this point, we will stop listing the achievements of WordPress, summing up the fact that this platform with the WooCommerce plugin can turn your website into a full-featured and functional online store!
SoftSprint has been working with WordPress for more than 5 years. Our vast experience will help in creating an individual solution specifically for your needs!
Some useful about WordPress: https://softsprint.net/category/wiki
Our plugins: