Интернет-магазин CoffeeRoast.com.ua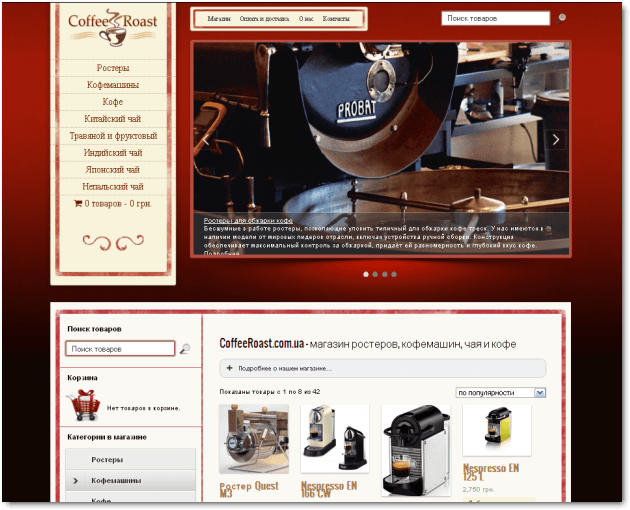 Project CoffeeRoast.com.ua was created in conditions of minimal budget but maximal functionality. As the result our team used CMS WordPress plus online-store plugin – WooCommerce. Our task was to combine all opportunities of blog and online-store. The client had a goal to write the posts about the tea, coffee, roasts and other specific drink-machines. The template of WordPress supports WooCommerce plugin, therefore we had no problems to adopt the online store with all necessary CSS styles. Some additional plugins, as the second cart in top-menu, slide carousel and short codes for the tab and widgets integration have added extra functionality to the website. Users have got the opportunity to add the items into the basket in minimal quantity of steps (fast order).
Store manager has its own admin-panel with the clients orders, statistics, products stock and so on. Store managing is rather simple and comfortable, therefore any admin can easily control all trades process.
SEO of CoffeeRoast.com.ua consists of a couple of plugins, which enable to form correct short descriptions, keywords and titles. Internal links are controlled by robots.txt that prevents double content. Automatically sitemap.xml creation is helpful for SEO too.
Summing it up we can tell, that CoffeeRoast.com.ua project is multifunctional website with online-store, which has all necessary functionality, though the budget was limited.
Project: http://coffeeroast.com.ua